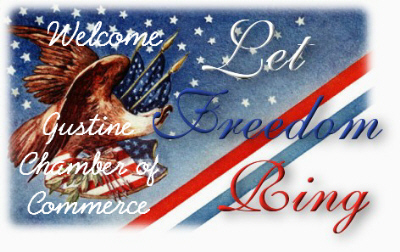 Gustine Volunteer Fire Department tee shirts are on sale now at Gustine Chamber of Commerce
on 5th Street. All proceeds go to the Volunteer Fire Department. Shirts are $20.
Gustine Chamber of Commerce office is open
Tuesday through Friday, 10:00 a.m. to 2:00 p.m.
Get yours today!!!

2013 Gustine Chamber of Commerce Dinner Dance

2012 Downtown Christmas
2011 Downtown Christmas
4th of July 2012
Pictures by Mattos Newspapers - Photoshow by Kathy Maffei
4th of July 2011
Gustine's 99th 4th of July Parade 2010
4th of July Fireworks Finale 2010
SHOP IN GUSTINE

OFFICERS AND BOARD OF DIRECTORS

Meetings are held the 3rd Wednesday of each month at 6:00 p.m.
These meetings are always open to the public but we go to a different restaurant each time.
Please call for the restaurant of that week
209-854-6975
Please attend and bring a friend.

Our satellite office is located at
375 5th Street, Gustine, CA
Phone (209)854-6975 Fax (209)854-3511
CELEBRATE THE 4TH IN GUSTINE!!!
Click here to email Gustine Chamber of Commerce
CLICK ON THE LINKS BELOW
Annual Dues Statement
A Salute to Veterans (NEW!)
Gustine Chamber of Commerce Annual Golf Tournament
Gustine Area Attractions
Gustine Calendar of Events
Gustine Area Schools
Gustine Church Directory
Gustine Municipal Airport
Gustine Volunteer Fire Department
Gustine Rental Facilities
Annual Dinner Dance
Our Lady of Miracles Home Page
Our Lady of Miracles School
Website Press Release 8/26/04
Downtown Christmas & Schedule
Gustine C of C Member Directory
Gustine Historical Society
Modesto Bee Article "Downtown Christmas"
Pictures of Events
Click here to email Judi Gandi at The Chamber Office